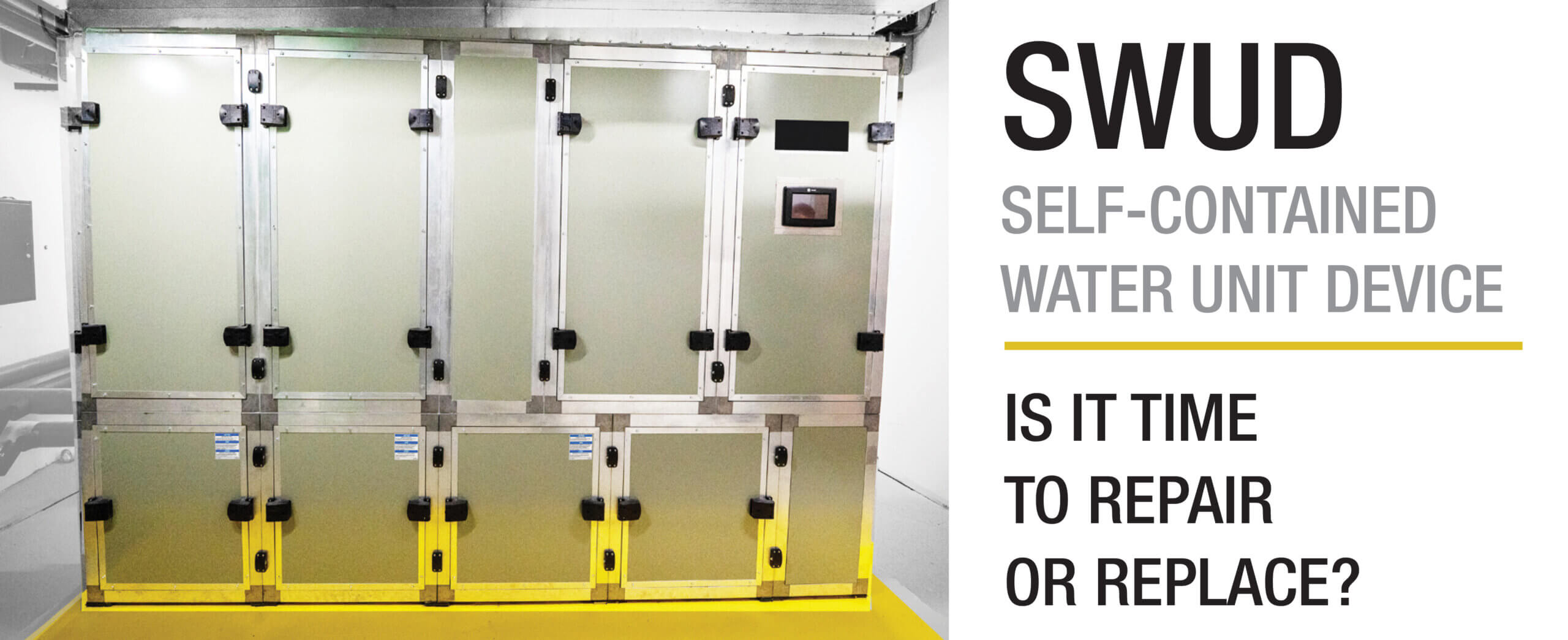 A SWUD, a compact, modular HVAC unit, allows for the total cooling and conditioning of the air in commercial buildings with its complete mechanical system housed within. SWUD, or Self-contained Water-Cooled Unitary Device, is a departure from the HVAC systems of the past. McKenney's can help you determine whether repairing or replacing your SWUD unit is the better option for your facility. We have the resources and capabilities to analyze, plan and choose the best solutions for your facility. There are four factors to consider when deciding to repair or replace your SWUD unit based on its age, condition, savings, and operations.
---
HOW OLD IS YOUR SWUD?
Age is a significant indicator of the lifespan of your SWUD. Older units may significantly increase energy and service costs, resulting in an outdated, inefficient HVAC system. However, if your SWUD unit is under ten years old and the components are still readily available, repairs may be the more cost and energy-efficient option. McKenney's can help determine if that is the best route for your facility and how to repair your SWUD effectively.
WHAT IS THE CONDITION OF YOUR SWUD?
The condition of your SWUD unit can help determine your best option. Are refrigerants, compressors, and fan components for the older Legacy units still available? Avoid spending excessive time and money searching for obsolete components with outdated technology. If you are having difficulty finding crucial components for your aging SWUD system, it is time to replace it.
HOW MUCH CAN YOUR FACILITY SAVE ON REPAIRING OR INSTALLING A NEW SWUD?
Calculate your current energy costs versus the cost of installing a new SWUD to determine if repairing your unit is still cost-effective. Installing a new modular SWUD unit will save energy and maintenance costs and save you on the hidden, most expensive cost for your company – service disruption.
HOW MUCH WILL REPAIRING OR REPLACING OUR SWUD AFFECT OPERATIONS?
Compare the current operating costs of a well-maintained older SWUD versus a new modular SWUD unit to determine if repairing your unit is still viable. A newer modular SWUD will comply with energy codes and standards to reduce environmental impact and improve comfort and peace of mind for you and your tenants.
WHAT ARE THE NEXT STEPS FOR MY SWUD?
SWUD units are frequently ignored until major technical problems arise, resulting in untimely repairs or replacements. Save money on costly repairs in the future by contacting McKenney's to evaluate your SWUD today.
---
Want to know more about how McKenney's can help with your SWUD? Leave a comment below, visit our website, or contact us for more information .