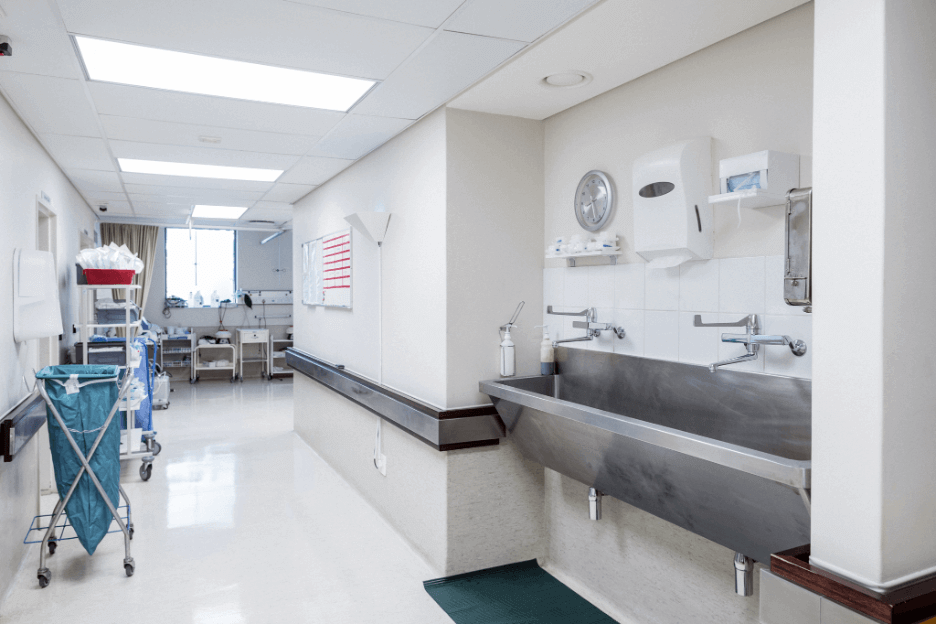 Healthcare facilities face many unique challenges in their day-to-day operations. Their critical needs often depend on interconnected systems that must perform reliably. McKenney's is an experienced contractor for mechanical and plumbing systems, working with both newly constructed healthcare facilities and upgrading existing spaces. Our expertise allows us to plan renovation work in a way that minimizes disruptions to daily operations, and we have proven track record of designing complex systems for hospitals, clinics, outpatient centers, ambulatory surgical centers, and medical office buildings.
Mechanical Systems
Mechanical systems play a crucial role in healthcare facilities by offering temperature control, ventilation, and humidity regulation.. This infrastructure is constantly used in healthcare facilities and must be regularly maintained for optimal performance. The HVAC systems serve many areas, including examination rooms, patient rooms, labs, operating rooms, and even food prep areas. Each of these spaces has distinct temperature requirements aimed at ensuring the comfort of both staff and patients while preventing the spread of bacteria and viruses. Additionally, humidity levels must be carefully maintained to inhibit the growth of mold and mildew. Poor indoor air quality can also contribute to the development of lung infections, therefore the HVAC system must be checked so that it properly filters the air.
Plumbing Systems
Plumbing systems in healthcare facilities have unique requirements not found in other commercial buildings. For example, purified water is necessary for labs and sterilization systems. Backflow prevention and temperature mixing valves must be present on all sterilizer units. Decontamination rooms are required for the cleaning of instruments and equipment, while hot water must meet minimum temperature requirements.
Regulations require the periodic testing of plumbing equipment for compliance. Plumbing systems must comply with OSHA rules and American National Standards Institute regulations. Other unique plumbing systems found in healthcare facilities include medical gas, dialysis systems, emergency showers, and eyewash stations.
McKenney's Specialized Expertise
As a full-service and single-source provider of mechanical and plumbing systems, McKenney's has more than seven decades of experience in the healthcare market. McKenney's has designed, fabricated, and installed systems for new construction and renovations/upgrades, and will create a preventative maintenance plan to keep critical equipment running properly. In addition, we offer 24-hour emergency response for plumbing services.
McKenney's has completed healthcare projects at several notable medical centers in the Southeast, including Emory Saint Joseph's Hospital (Atlanta), Wellstar Atlanta Medical Center, Children's Healthcare of Atlanta, Piedmont Regional Medical Centers, Northeast Georgia Medical Center, Greenville Memorial Hospital (SC), Spartanburg Regional Hospital (SC), Carolinas Medical Center (Charlotte), and CMC University Women's Center (Charlotte). Contact us today for more information.