Commercial building maintenance is an ongoing task.  It may seem like a chore, but problems don't usually go away on their own.  In fact, they may only worsen over time.  Regular building maintenance and inspections enhance the performance of the systems, minimize downtime, and reduce costs.
From an appearance standpoint, building neglect doesn't make a good first impression.  It may make the facilities look unkempt, rundown, or unsafe.  Neglecting problems with the building's systems can lead to safety issues for tenants, employees, and customers.  It's important to maintain a safe environment inside the building and in outside areas including walkways, steps, and the parking lot.  Maintaining these areas can prevent accidents from occurring on the property.
Failure to address maintenance problems with the building in a timely manner may lead to more expensive fixes in the long run.  Regular maintenance takes care of small problems before they become serious ones.  Keeping things in good working order protects the owner's investment.
Whether on-staff facilities managers or third-party vendors do the work, here are some areas of a commercial building that should be inspected and maintained regularly.
HVAC system – Thorough inspections can uncover issues with equipment, safety, and other components.  Filters should be regularly changed, coils cleaned, and wiring inspected.  Ductwork should be checked for air leaks, which could waste energy and allow contaminants to circulate indoors.
Electrical system – Lighting, servers, computers, and security systems are powered by the building's electrical system.  Older buildings may require power distribution systems to ensure enough power is available to operate modern equipment and critical systems.  Backup generators may be a component of the electrical system.
Plumbing – Plumbing systems in commercial buildings are subject to heavy use, making them more prone to break down.  Clogged drains, damaged pipes, and water leaks can mean costly repairs if not dealt with promptly.  Leaks can cause structural damage and promote mold growth.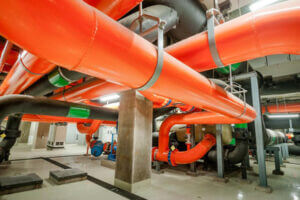 Roofing
Seasonal temperature variations can cause deterioration of the roofing materials over time.  Roof drains that are clogged with leaves and debris can lead to costly leaks.  An inspector should identify ponding, cracks, blisters, holes in the substrate, and uplifted nails and shingles.  Gutters, downspouts, and flashing should be inspected.
Elevators
Elevators are complex systems. A lack of routine maintenance and failure to identify wear and tear on parts leads to breakdowns.  Routine service is needed on motors, generators, brakes, and safety control features.  Commercial elevator inspections are performed by certified inspectors.  OSHA requires elevators to be inspected annually.
Storm drains
Routine maintenance on storm drains and catch basins prevents stormwater backup and flooding damage to property.  Sewer lift station maintenance should include an annual cleaning.  A buildup of debris and sediment can compromise the system.
There are real costs and consequences associated with building neglect.  Inadequate maintenance of machinery and systems leads to equipment breakdowns or the systems not being fully optimized.  Identifying potential problems early gives facilities staff time to find the most cost-effective and efficient way to deal with them.