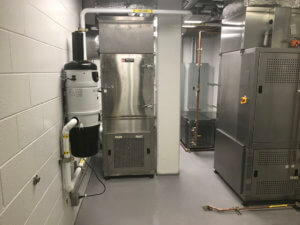 Information is great. Knowledge is even better. Every facility has an abundance of information that can be gathered, analyzed, and leveraged for more energy-efficient operations. But you need to know where to look for it and—more importantly—what to do with it.
McKenney's buildingSENSE™ is a next-generation facility intelligence platform that leverages data gathered by building control systems, enterprise platforms, asset management systems, and other associated facility management applications.
With buildingSENSE, understand the story your building is telling you.
Get round-the-clock visibility of your building allowing you to identify issues before they become problems.
Locate key building information in less time and with less browsing to make more informed business and operational decisions.
Monitor any point in any system every day, giving you insight in how your building is operating 24 hours a day, 7 days a week, 365 days a year.
Click here to learn more about buildingSENSE. If you're a current McKenney's Service customer, talk to your account manager today to learn how you can get started with buildingSENSE today.