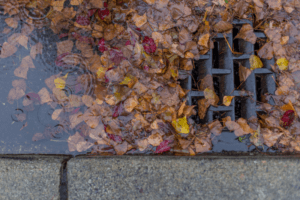 It's 3:00 a.m., and you get a call from the security guard in a panic because the building has flooded, the water keeps rushing in, and there is no valve to shut it off! Nope, we're not talking about a waterline break; we're talking about your storm sewer backing up.
Storm drain inspections are a crucial part of keeping storm systems operating at optimal levels. You wouldn't drive your car on a trip without checking your oil, would you? Sure, the majority of the time, you can get by without an issue, but when something happens, it's usually bad! Do you know what kind of shape your storm and sanitary drains are in today? Imagine your building flooding and then stopping to think to yourself, "This could have been prevented with an inspection/cleaning." If you have ever been through a storm drain flood, you know it's unlike any other emergency. Why, you ask? Because Mother Nature controls the flow, and she says when it stops!
There usually are three types of Inspections/Cleanings—two out of the three can be scheduled, and the last is the one we all dread…The Emergency! But do not panic yet because this one can often be prevented with a simple scheduled inspection. Let's take a look at the most typical inspections.
New Construction – This inspection is usually done after all construction has ended. This helps identify any debris or sediment that has accumulated in the system during the construction phase.
Routine Maintenance – This inspection usually occurs annually. It can help determine the storm sewer system's integrity, including cracks, roots, foreign debris build-up, washouts, and collapsed lines. This is by far the most critical inspection for preventing the third inspection.
The Emergency – Similar to the routine maintenance, only now it has probably caused flooding, property damage, and possibly interrupted your sleep or vacation!
Did you Know…
"The City of Atlanta Code Ordinance requires that property owners ensure stormwater management facilities installed on their property be properly maintained and functioning as designed (Code Sec.74517). All stormwater management facilities permitted and constructed are required to have an inspection and maintenance agreement recorded in the deed records for the property. Such agreements must include an appropriate operation and maintenance plan which provides for an annual inspection to be performed by a qualified inspector, who has a Level ll Georgia Soil and Water Conservation Commission Specialist certification."
McKenney's is fully equipped and certified to inspect, document, repair, and clean all your storm and wastewater systems. We have the capability to pressure wash and hydrovac catch basins and lift stations. Give us a call to schedule your inspection today, and let the sound of the rain put you to sleep instead of keeping you awake!