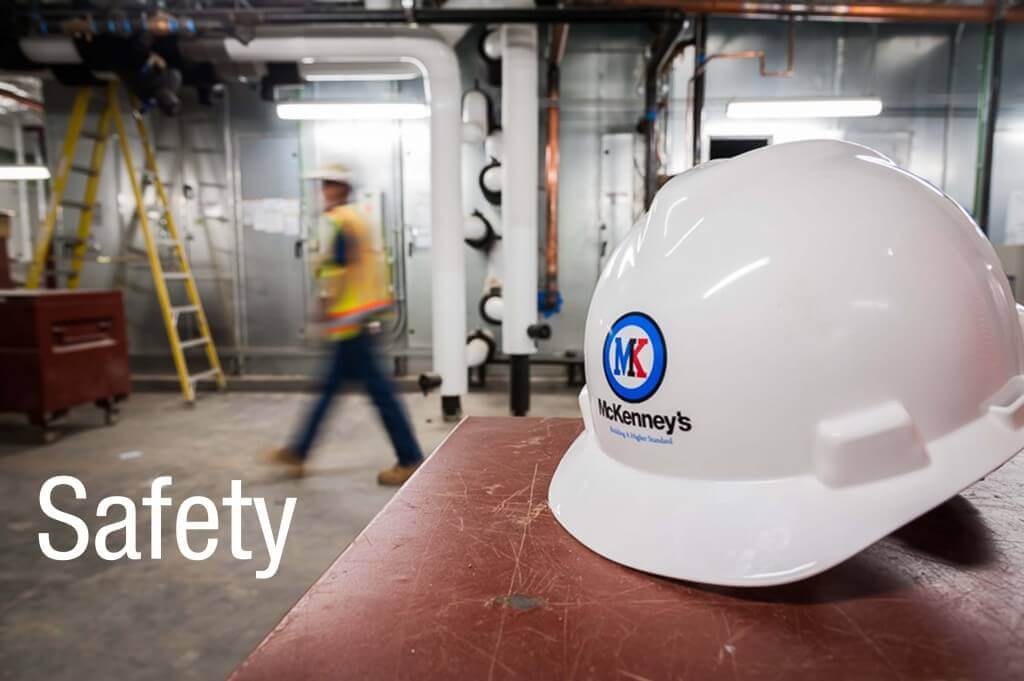 Moving Safety Forward: Our Journey Toward a Zero-Incident Culture
WHY
Safety is our most important core value at McKenney's. Our goal each and every year is to provide a safe and healthy work environment for our employees and our customers. Our commitment to this goal is summed up by this Safety Mission:
Build a partnership with our employees, customers, and business associates that empowers them all with the ability to do their jobs safely.
To effectively build this kind of partnership we must have:
A safe working environment
Customer and employee participation
Mutual trust that safety is a top priority
We believe by focusing on these three factors we can contribute to our customers' efforts to make the overall project environment safer.
HOW
There is a distinct connection between safety, quality, and productivity, also known as SQP. We have found by looking back on just the last two decades, those zero-incident companies have experienced the most success when linking safety, quality and productivity to one another.
In previous blog posts we've elaborated on our planning processes, new technology implementation, and our root-cause analysis of incidents and near-misses. Additionally, one small change during our New Hire Orientation Process is making a big difference.
During "Phase 1" of our orientation of new employees, we have instated a policy of wearing blue hard hats. New hires are provided mentoring and on-the-job training and are easily identified by their blue hard hat – signaling to those around them that they are new and are being indoctrinated into the McKenney's safety culture.
"Phase 2" of this orientation begins after new employees have successfully completed their initial training, participated in a group safety session and taken a written test. Only at this point may employees begin wearing our standard white hard hat.
This simple policy has produced great results for our company as we continue Moving Safety Forward, and will continue to do so in the future.
WHO/WHAT
Our Safety Culture focuses on three central factors that present "Dynamic" hazards:
People
Materials
Environment
People require proper training and leadership. We have a dedicated team of safety professionals providing the necessary support and leadership.
Materials requires the right tools and equipment in proper working order. We use only the best tools and equipment and conduct Job Hazard Analyses (JHAs) to provide our field teams with methods to reduce hazards on the job.
To manage the Environment, we use cutting-edge technology to monitor and control the physical environment around our field personnel. We've built a digital safety-data gathering tool to collect, analyze, and share "at risk" behaviors across all our teams. Here's how it works:
Our employees enter safety observations including both "safe" and "risky" behaviors
These observations are analyzed to identify trends and then predict where a future incident or injury may occur
Predictions are used to develop training to prevent risky behaviors from bring repeated
TIPS, TRICKS, and CONSIDERATIONS
McKenney's tracks our Safety Outcomes so that we may share the results and make necessary changes to improve our overall performance. A few notable metrics include:
McKenney's performs an average of 174 safety observations per day.
McKenney's observes an average of 1,894 behaviors per week, helping us predict and prevent accidents.
McKenney's Field Teams record and correct an average of 873 at-risk behaviors per week, identifying potential problems before anyone is injured.
At our core, we are Moving Safety Forward, toward a zero-incident culture!
Have a question for our experts? Leave your comment below and check out our website for more information.