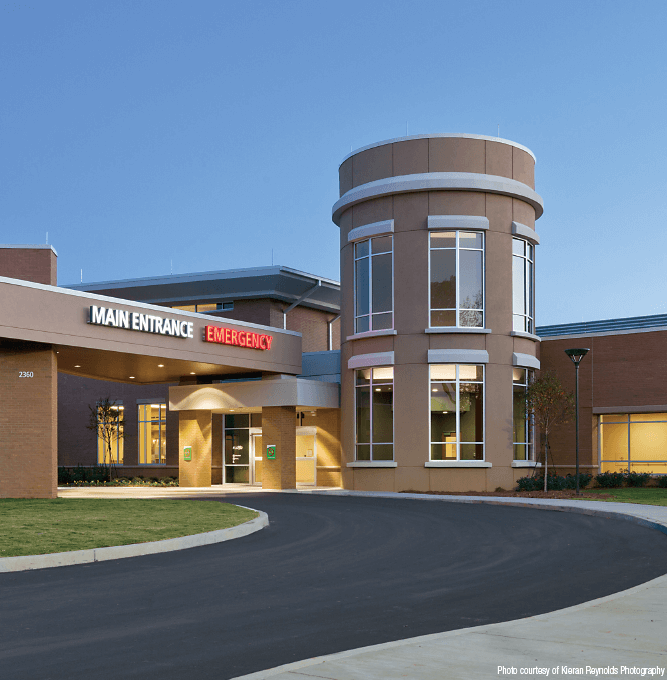 Project Name
Polk Medical Center Critical Care Facility
Project Location
Cedartown, Georgia
Project Team
Owner: Polk Medical Center
General Contractor: Brasfield & Gorrie
Architect: Earl Swensson Associates, Inc.
Engineer: Phoenix Design Group
Contractor: McKenney's, Inc.
Specializations
Design/Assist
Pipe Shop Prefab
Sheet Metal Shop Prefab
Markets
Healthcare
McKenney's installed a full-service HVAC system at Polk Medical Center, a new greenfield critical care facility built in Cedartown, Georgia.
The Challenge
Cold, wet winter weather posed significant challenges for installing the facility's roof and subsequent interior HVAC rough-ins. The roof required certain temperatures before it could be installed, which in turn delayed the installation of interior ductwork and piping. With no flexibility in the predetermined completion date, McKenney's was forced to adjust its schedule to meet the owner's requirements.
The Solution
The team overcame schedule fluctuations through extensive planning, collaboration and expert logistics. With the aid of Trimble GPS technologies, the team planned and sequenced all work with the general contractor and other trade subcontractors to complete the rough-in as quickly as possible. They prefabricated HVAC system materials and coordinated their delivery based on the shifting roof installation schedule.
The Results
McKenney's completed the HVAC installation on time—despite the domino effect created by inclement weather—which helped the medical center open its doors ahead of the original schedule.
Have a question for our experts or want to see more project highlights? Leave your comment below and check out our website and knowledgebase for more information.