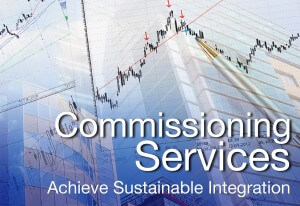 The Commissioning Department's capabilities extend far beyond the tasks outlined in our previous blog post, The Commissioning Technician: Roles and Responsibilities. Our department's tool room hosts equipment for data logging, TAB related measurement, and air quality testing. This specialized equipment allows McKenney's, Inc. to offer unique services to its customers. In this month's blog post, we will discuss the application and value added to projects through utilizing temperature and relative humidity data loggers.
Temperature and humidity data loggers have many uses in construction and existing building environments. Whether data loggers are used to support LEED testing, perform system level troubleshooting, or monitor finishing work space conditions, temperature and relative humidity data loggers can provide value to any project. With this level of application in mind, McKenney's has purchased and utilized HOBO Temperature and Relative Humidity Data Loggers to provide a level of service above our competitors.
The building flush option for the LEED IAQ management plan is a common method for obtaining the LEED EQc3.2 credit. To achieve this credit, building temperature and relative humidity conditions must be maintained within a specified range throughout the building flush process. Given the compressed nature of the majority of construction schedules, data logging through the DDC system is not always an option. In these cases, McKenney's has been able assist the project team by utilizing our data loggers for verification and credit supporting documents.
In the past building owners have reached out to McKenney's to assist and diagnose comfort issues with their facilities. In order to gather the information necessary to resolve an issue, McKenney's will deploy HOBO sensors throughout the space and even inside the units associated with the troubled area. This data will often provide the information necessary to resolve the issue.
Join us next time when we discuss the capabilities of our TAB related equipment.
Have a question for our experts? Leave your comment below.