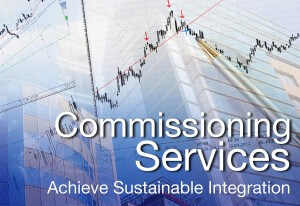 As discussed in our previous blog post The Commissioning Technician: Roles and Responsibilities—Part 1, our most valuable resource in the Commissioning group is the Commissioning Technician. From mechanical equipment start up to owners training, our technicians are heavily involved in ensuring quality and customer satisfaction. This week we will discuss the technician's responsibilities at the end of the project including functional performance testing and owners training.
The commissioning technician's responsibilities at the end of a project are critical to the operation and performance of the mechanical system. This process can ensure system integrity not only for the present, but for many years to come. Functional Performance Testing and Owner's Training are key steps to achieving this goal.
Functional Performance Testing is the act of verifying mechanical system operation. During this process, the Commissioning Technician will observe the system in operation under various, and sometimes simulated conditions. They will correct any and all issues found. If necessary the Commissioning Technician will return to a project in the opposite season to ensure proper building operation. The end result of functional performance testing is a mechanical system that meets the Owner's requirements and operates without issue.
Due to the complexity and importance of today's mechanical systems, it is important to train the facility operations team on how to properly operate and maintain the building. This step is completed through on-site Owner's Training. During the training, the Commissioning Technician will teach the facility operations team how to properly maintain and operate their mechanical system. Without this knowledge, misguided efforts to service the building can jeopardize system integrity and cause damage to equipment.
Functional Performance Testing and Owner's Training ensure not only a properly functioning mechanical system but also a well-informed operations staff.
Have a question for our experts? Leave your comment below.