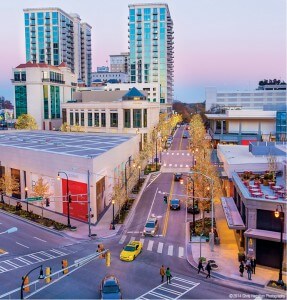 McKenney's helped revive a multi-stage project—including a central district water plant—for the Buckhead Atlanta luxury destination.
The Challenge
Among the many complexities involved with the project, the central water plant, ductwork and plumbing needed to serve three parcels spanning one-and-a-half blocks on a busy urban street, each with a different completion schedule. This was to be accomplished using equipment that had been stored for over three years.
The Solution
To keep everything on track, McKenney's enlisted Building Information Modeling technology for virtual construction, coordination and clash detection between the trades. The team then installed the water plant along with prefabricated plumbing and underground piping at various stages of the project to supply the infrastructure for the entire development. McKenney's tested and evaluated the dormant equipment—and made updates and repairs—to return them to like-new performance.
The Results
Despite the change in owner and designs, staggered completion schedules and the multiple city blocks scope, the project is progressing as scheduled, on budget and is operating per design expectations.
Have a question for our experts? Leave a comment below and check out our website for more information.