Site Monitoring solutions enhance the performance of a building's various systems to ensure the building is safe, comfortable, secure, and energy-efficient.  Intelligent data-enabled automation and controls mean that HVAC, lighting, security, and surveillance can be integrated on a single platform to enable facilities managers to make informed decisions.  This can be achieved through Building Automation Systems (BAS) or Building Management Systems (BMS).  Optimizing the performance of a building's systems translates to cost savings for the owner.  Office buildings, retail centers, healthcare facilities, government buildings, data centers, and schools are among the types of commercial properties that can benefit from Site Monitoring solutions.
Automatic Climate Control
HVAC systems account for more than 40% of a commercial building's total energy usage.  Automatic HVAC control systems can reduce energy consumption and save significant costs including equipment maintenance.  Automatic controls with real-time occupancy recognition help create a comfortable environment for the building occupants by sensing comfort requirements and scheduling the HVAC system.  The system can be programmed to include off-hour controls based on occupancy and typical work schedules.  Optimal start time allows the system to be turned on at the appropriate time.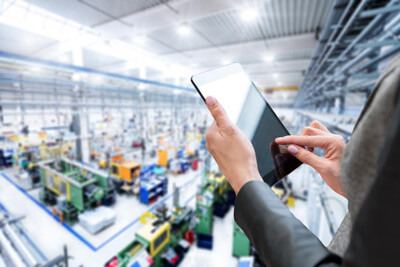 Lighting Control
According to a recent Commercial Buildings Energy Consumption Survey, 17% of the electricity used in commercial buildings is for lighting.  Automatic lighting control systems reduce energy consumption and save money.  Sensors can adjust the lighting based on building occupancy, time of day, and amount of daylight.  Lighting control systems increase security and safety inside the building and in parking lots and exterior areas of the property.  They help deter crime and prevent injuries such as falls due to poor lighting.  Keeping employees and visitors safe leads to fewer workers compensation claims and costly lawsuits.
Security
Security systems are a must-have for commercial properties.  Each type of property may have a unique set of hazards and risks.  Security systems are tailored for the type of facility.  Systems should protect tangible assets, information, and people from threats such as fire, accidents, and crime.  Many components can be integrated into a system including building access, perimeter security, closed-circuit television monitoring (CCTV), alarms, various sensors and detectors, and fire detection and extinguisher systems.
Card Access
Commercial properties require dependable access control systems to secure their facilities.  Card access is a popular and cost-effective choice.  Options may include smart card-based credentials and touchless access control solutions.  Access control readers collect data that can show trends or irregularities.  Older buildings may have legacy systems that still work, but it could be time to upgrade to newer technology.
Video Surveillance
Video surveillance systems deter crime and document security events on the property.  Older analog cameras should be upgraded to IP (Internet Protocol) cameras.  Newer networked IP cameras will capture higher resolution images than analog cameras.  Some have motion sensors and enable automatic alerts.  IP cameras use network video recorders for data storage.  The amount of storage needed depends on the type of facility.
McKenney's Solutions
McKenney's Automation and Control Solutions (ACS) can be integrated into both new construction and existing buildings.  McKenney's is your partner for innovative, integrated services and site monitoring solutions.