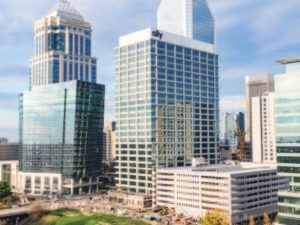 The Challenge
Aggressive schedule for base build, interiors upfit and controls installation
Compliance to the owner's budget
The Solution
Installed mechanical systems to improve air quality while maintaining physical distancing
Target Value Design
The Results
Completed base build ahead of budget
Met quick timeline for rough-in and finishes
Premier destination for Uptown Charlotte
Specializations
The 26-story Ally Charlotte Center is a welcome addition to Uptown Charlotte's skyline. Developed by Crescent Communities, Ally Charlotte Center will feature 750,000-square-feet of office space, approximately 30,000-square-feet of ground floor retail and restaurants, a 12,000-square-feet public plaza, a 1,400-space parking garage and a 380-key JW Marriott hotel with a rooftop pool.
Ally Financial, the anchor tenant, envisioned an impressive Class-A tower to bring its employees from three separate locations under one roof. As the project got underway, the pandemic hit the U.S.—presenting challenges in meeting an already aggressive schedule while mitigating exposure of McKenney's teams in charge of the base build, interiors upfit and controls installation.
To create a safe working environment, the McKenney's team applied physical distancing and mechanical systems that improved air quality and reduced the potential for virus exposure during construction. This allowed the team to protect its 42-person crew.
The McKenney's team also used its full cycle of services—Design, Build, Manage and Maintain—to deliver high-quality energy efficient solutions. From the Virtual Construction team supporting the building of the core and shell structure and the Automation team handling controls, to the Interiors and Special Projects team managing the interiors upfit. To meet the aggressive schedule and ensure compliance to the owner's budget, the McKenney's team used the Target Value Design delivery method to weave the design team's engineering strengths with the knowledge of building designs, costs, systems and component performance, schedules, and constructability.
McKenney's completed the base build and installed all mechanical equipment ahead of budget and pushed the rough-in to meet the customer's timeline and finished ahead of schedule. Crescent Communities is pursuing certifications in WELL and LEED and is Wired Certified Platinum for achieving the highest standards in technology infrastructure. Once fully occupied, Ally Charlotte Center will be a premier destination for work, travel, shopping and dining in Charlotte, as well as provide a modern and collaborative work environment.