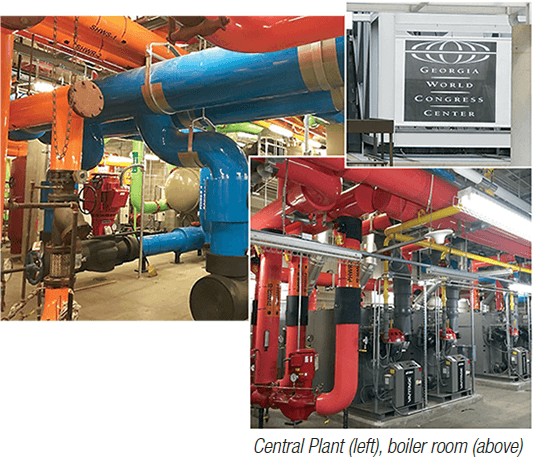 As the world's largest LEED-certified convention center, the Georgia World Congress Center (GWCC) offers nearly four million square feet of meeting rooms, galleries, exhibit halls, ballrooms and more for a wide range of events, including meetings, conferences and trade shows. Located in the heart of downtown Atlanta, more than one million people visit the facility annually, generating significant revenue for the state's economy.
Customer satisfaction is the lifeblood for the facility. Customers from around the world use the facility around the clock, every day of the year. When one of the two onsite utility plants needed to be replaced, Trane Inc. and McKenney's were selected to remove it and install a 6,500-ton plant quickly and quietly without disrupting daily activity or compromising the visitor experience.
Trane and McKenney's collaborated with the GWCC Facilities group to maintain HVAC operations during renovations. State-of-the-art 3D scanning technology and BIM modeling was used to produce a virtual as-built of the existing utility plant and to pre-fabricate piping assemblies offsite for faster construction and installation times. The use of these tools significantly minimized interference with existing facility systems.
The renovated plant delivered chilled water throughout the facility two weeks ahead of schedule. Overall, the project was completed four months earlier than expected and significant monthly energy savings are being realized by the facility a year before the payback period begins. Beyond using far fewer kilowatts, more savings are expected as the plant is optimized and lighting installation is completed.
When asked about his experience with McKenney's, GWCC Plant Manager Wayne Rosser said, "When the facility faced an issue we felt like we were treated as a partner, and not just another job by the project team."
The Challenge
Remove and replace large chiller and boiler plant
Perform daily tasks without interfering with visitors or operations
The Solutions
Partnered with onsite Facilities team to create detailed plan
Used 3D scanning and BIM modeling
Pre-fabricated piping assemblies offsite
The Results
Completed project four months ahead of schedule
Achieved zero interruptions to facility operations
Substantial reduction in monthly energy usage
Developed and installed energy conservation measures that earned a lower energy rate for GWCC six months ahead of schedule
Have a question for our experts? Leave your comment below and check out our website for more information.