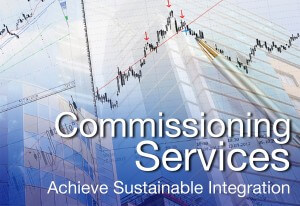 In the past I have discussed in great detail the "process" of commissioning and how commissioning is applied into construction projects.  I have also discussed the transition to operational stability as a building or facility becomes occupied and fully functional in its intended use.  So when does the commissioning process actually end?
There are really (at least) two ways to answer this question.  First, and the easiest in my opinion, would be to end the process as was agreed to by the scope of work or contract, simple as that.  Likely this was discussed between the consumer and provider up front and agreed upon.  Most often we have seen this occur after an Owner's Training, when off season testing is complete or simply when the "final" commissioning report is submitted as functional testing of building systems concludes.
When SHOULD the commissioning process end though?
Realistically, the process SHOULD end but perhaps the true answer may actually be that the process itself should NEVER end.  That probably does not sound all that practical to most I would guess and admittedly the idea of never ending commissioning services would be pretty hard to sell…or would it?  As a building and building systems transition there will be an opportunity to commission the components most impacted by any given transition.  Basically, as long as there is change in a facility there is an opportunity for the systems serving the facility to drift further away from operating in the most efficient manner.  Commissioning manages this gap between operational requirements and excellence in operational performance.  The beauty of commissioning and the commissioning process is that it is very scalable and flexible which makes it easily adaptable to any facility and any transition experienced by the facility.  In recent years multiple terms for these "adaptations" of the commissioning process have entered our vocabulary, terms such as retro-commissioning, continuous commissioning and monitoring based commissioning to name a few.
So perhaps we go about calling commissioning and the process a variety of things because it makes the transaction of services simpler and creates an actual (and necessary) END…ideally the idea, the process NEVER ends.
Have a question for our experts? Leave your comment below.