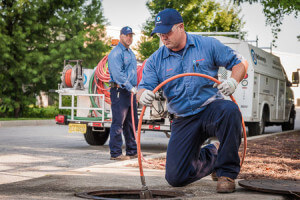 McKenney's, Inc. is the Southeast's most trusted name in facility construction, operation and maintenance. Our Plumbing Services delivers fast, reliable support by our team of licensed plumbing experts. Offering a wide range of plumbing systems and controls designed to improve performance of your facility, our team of experienced, trusted plumbers is available for anytime maintenance and repair on even the most complex plumbing challenges.  For example, they use innovative hydrojetting equipment to cut through the toughest, greasiest lines with ease.
As a single-source provider, we will customize our response to meet your unique needs with unparalleled speed, agility and accuracy. The results—uninterrupted operation of your facility, streamlining workflow and minimizing costs.  Our plumbing experts arrive on time and with the right tools to deliver fast, responsive, high-quality service every time. Backed by over 35 years of experience working with mechanical systems, our plumbers are factory trained to work on equipment from all major manufacturers. Our services include:
 24×7 emergency plumbing services
Backflow testing & certification
Drain cleaning & jetting
Video piping inspection & locating services
Lift station maintenance & repair
Medical gas piping systems installation & repair
Some things are out of your control. McKenney's ensures your building isn't one of them. We provide the tools and resources to help you make smarter building management decisions.