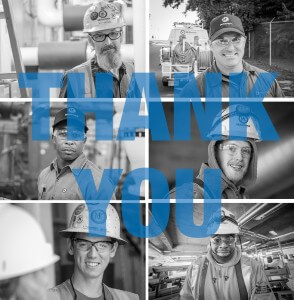 We are pleased to announce that McKenney's has won the 2015 Safety Excellence Award from the Mechanical Contractors Association of America (MCAA). We would like to thank our employees, partners and customers for their hard work and dedication to creating an environment that puts safety first. This is just the first of many milestones on our safety journey, and we look forward to taking the next steps together!
MCAA and CNA, the endorsed insurance carrier for MCAA, co-sponsor the most prestigious safety awards program in the mechanical construction and service industry: the MCAA/CNA Annual Safety Excellence Award. This award honors companies across the United States who have demonstrated the highest level of commitment to and execution of safety strategies.
All MCAA members are eligible to compete and win one of the five MCAA/CNA Safety Excellence Awards, which involves submitting an application comprised of a brief description of the company; detailed information on the contents of its safety and health program; reasons why it believes it deserves to win a safety excellence award; and a brief description of a results-based innovative safety initiative implemented by the company in 2015. First place winners are awarded in each of following five size categories.
Category One – Less than 100,000 work hours
Category Two – 100,000 to 250,000 work hours
Category Three – 250,000 to 400,000 work hours
Category Four – 400,000 to one million work hours
Category Five – Over one million work hours
McKenney's won the award in largest size category: Category Five – over one million work hours – and is the first Georgia and North Carolina member of MCAA to be recognized in this category.