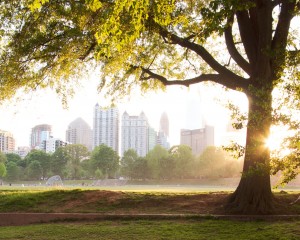 Atlanta has become the first city in the Southeast to adopt a comprehensive energy policy to significantly reduce energy use in commercial buildings. With a proven track record of  green building practices, we can help make energy reporting easy so you can comply with this new policy.
City of Atlanta's Commercial Energy Efficiency Ordinance
The ordinance, authored by the Mayor's Office of Sustainability, was unanimously passed by the Atlanta City Council in April of this year.  The energy efficiency ordinance is focused on improving the energy performance of commercial buildings in the city. More information about the ordinance can be found here.
The ordinance applies to all commercial buildings 50,000 square feet and larger. After January 1 of 2016, it will apply to commercial buildings 25,000 square feet and larger. The two main components to the ordinance are:
Energy and Water Benchmarking: Energy and water data for the building must benchmark their energy and water usage in Energy Star Portfolio manager, and report this benchmark information to the City at least once a year.
 Building Energy Audit: Every ten years, the same building will need to have an energy audit completed, targeting the base building systems.
"Atlanta is paving the way for other cities to take advantage of the significant environmental and economic benefits that come with making city skylines more energy efficient," said Melissa Wright, Director of the City Energy Project at Natural Resources Defense Council, in a press release by City of Atlanta, GA.
McKenney's Energy Services
McKenney's has always made energy efficiency a priority. McKenney's can help companies get their building data benchmarked and pursue a future audit.
Benchmark – Track your data in Portfolio Manager
Analyze – Examine current data against optimal performance scenario
Compare – Compare building performance with your peers
Plan – Improve operational performance over time
McKenney's can help building owners of the designated buildings benchmark and report to the City their properties energy use annually. Learn more here by visiting www.mckenneys.com/AtlantaEnergyOrdinance
Have a question for our experts? Leave a comment below and check out our website for more information.