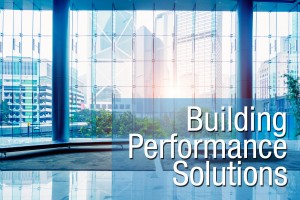 To better represent the types of services being provided and the customers being served, the McKenney's Government Facilities team has changed its name. Now called Building Performance Solutions, the new name reflects the team's focus on customers developing and implementing "paid for out of energy savings" projects and will better communicate the services and value we bring to those important customers.
When our Government Facilities team formed in 2009, it was with the mission to develop our presence in the government sector, and the original name reflected that goal. Since that time, we've expanded our focus to include developing strong relationships and experience in implementing projects that are paid for out of energy savings.
Energy savings performance contracting (ESPC) projects require performance contractors (PCs) to invest significant resources up front to develop viable energy conservation measures (ECMs), each of which includes conceptual designs and cost estimates. With the risk of energy savings squarely on the shoulders of the PC, implementation costs and return on investment (ROI) calculations need to be accurate. Additionally, ESPC projects require implementing ECMs in customer facilities that are operational, which calls for a higher level of quality and care.
Our Building Performance Solutions team has a deep bench of resources and services that make us uniquely qualified to support both the project development process and field implementation of ECMs. Our team is willing to go "at risk" for the PC and provide the required support for ECM development. We can install faster, cleaner and with less owner interruption thanks to our in-house design and BIM capability, our state-of-the-art pipe, plumbing and sheet metal fabrication shops, and our delivery fleet. After the project is complete, we also perform NEBB-certified start-up and commissioning services. These services are designed to confirm and document the operation and performance of each ECM.
The name change to Building Performance Solutions reflects our focus and desire to more closely align with the ESPC customer group while still leveraging our experience and expertise on design-build government projects.
Have questions for our experts? Leave your comment below and check out our website for more information.