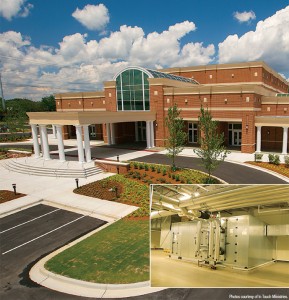 McKenney's installed air-cooled chillers, a mechanical plant, all ductwork, piping and plumbing for In Touch Ministries' recording studio, a producer of global television and radio broadcasts.
The Challenge
In addition to addressing the large air volume specification for this 110-by-110-foot recording studio and ancillary spaces, the team also had to ensure all equipment and ductwork met the studio's NC (Noise Criterion) 15 rating requirement for noise abatement.
The Solution
Two 300-ton chillers, supported by two 33,000 CFM air handling units along with 21,000 CFM and 14,000 CFM air handling units, were necessary to serve the studio and related rooms. To meet the NC 15 rating, the McKenney's team planned, fabricated and installed oversized ductwork lined with insulation to minimize and absorb air flow sound. The significant air volume and lownoise requirement made for a sizable and impressive system.
The Results
The mechanical system is now an integral part of maintaining a comfortable environment during production sessions—keeping the studio cool and noise-free so it can continue broadcasting the ministry's messages to the world.
Have questions for our experts? Leave your comment below and check out our website for more information.