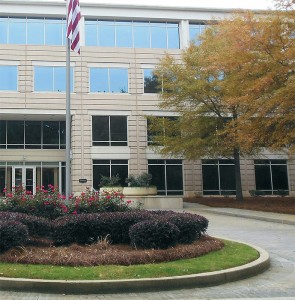 McKenney's repaired an underground water leak at a commercial office building in Alpharetta, Georgia.
The Challenge
The McKenney's service team needed to determine the source of a leak that was causing low water pressure on a cooling tower closed loop condenser system. The tower was surrounded by a surface parking lot, requiring the team to locate the source of the leak and make repairs with minimal disruption to the parking area and landscape.
The Solution
The team began by digging close to the cooling tower footing. They discovered the leak source—a pipe that ran under the cooling tower footing and had cracked from the weight of the tower above. Further exploration revealed piping that ran under the footer wall in a second location. The damaged pipe was isolated and all of the affected piping was rerouted above ground along the parapet wall. It was then directed back to the underground piping away from the cooling tower footing.
The Results
The relocated piping is now more accessible and will help mitigate future issues.
Have questions for our experts? Leave your comment below and check out our website for more information.