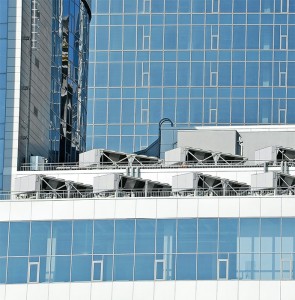 McKenney's upgraded and enhanced cooling tower operation to improve system performance and lower energy costs at a nine-floor hotel in Charlotte, North Carolina.
The Challenge
The cooling tower had to be replaced with minimal disruption to the hotel and guests. The project required expert planning, precise coordination of the sub teams and continual communication with the hotel's management to remain on schedule.
The Solution
To ensure a timely completion, the McKenney's team created a logistics plan and execution strategy that ensured all materials and labor were on site as needed. They also worked with the hotel's corporate controls team to pre-cool common areas prior to shut down, and then flushed large volumes of outdoor air in as needed to help keep temperatures at acceptable levels. In addition, a tower isolation redesign has eliminated future cooling disruptions by allowing one area to remain operational while other areas are being serviced.
The Results
Increased cooling tower performance has reduced tower make up water and resulted in lower utility bills. On-going monitoring is projected to reveal further cost savings.
Have questions for our experts? Leave your comment below and check out our website for more information.