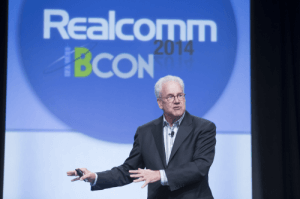 It has been a little over one month since I returned from the Realcomm Las Vegas 2014 conference with some assumptions confirmed. I was thoroughly impressed with the event schedule, session presenters and participants. From my perspective, the event generated a tremendous amount of valuable information for its stakeholder community. I even had the honor of meeting AJ Jolivette, CTO and president of Terosaur, Inc., who demonstrated how their drone technology may play a role in commercial real estate in the near future.
I also witnessed a strong lineup of technology vendors with compelling offerings that boasted about their approach to building business intelligence (BI) and analytics. There was a lot of talk in the exhibitor space. Buyers and their influencers were in no uncertain terms told that, if energy consumption savings is on their hot list, then look no further because Company X has exactly what you need.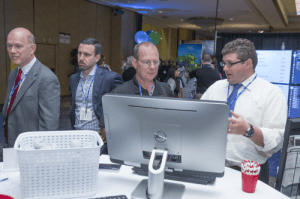 Since I am new to the building automation and controls industry, I assessed these offerings through the lens of a leader, process improvement enthusiast and information architect who has helped technology companies achieve significant success. As such, I left the event with one burning question: is anyone really making business decisions with the data that they receive from those systems? From the vendor marketplace to the breakout sessions, I heard a lot of discussion about "technology stacks," or the systems that are on premise behind a firewall that IT manages for an organization, off the shelf cloud solutions, and open source systems companies are using instead of proprietary and/or custom-developed software. My inner tech geek loved hearing these industry experts talk about the technologies that my teams have designed for our customers for years. (I also noticed common threads in men's fashion that week – strong time pieces, smart eye wear, and Euro-cut suits owned the day – might I digress!).
In summary, I left wondering how all of this software goodness is making these businesses more intelligent—this is BI for crying out loud, the name says it all, right? And because there was a strong showing of cloud software offerings, I also wanted to know if those white fluffy BI clouds are really helping organizations achieve inner bliss.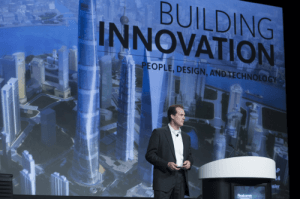 Several weeks ago, I had more questions than answers about this industry and its leaders. Today, I can more confidently confirm the offerings that I reviewed at Realcomm have a place at a buyer's table and may enable certain organizations to improve their daily operations. With thoughtful guidance from my new mentors and advisors who are building control system experts and industry veterans, I can now shape my team's focus on delivering something truly unique for our customers, both internal and external. All organizations deserve it, and it will take a lot more than clouds, BI, and bits and bytes to achieve it. The good news is that my team loves these kind of challenges. It's time to talk Enterprise Operational Intelligence™ (EOI) = Return On Investment (ROI).
Have a question for our experts? Leave your comment below and check out our bdoc® Building Intelligence for Buildings™ offering.