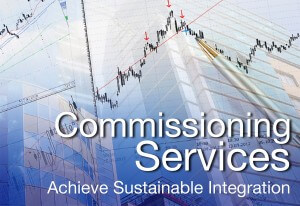 The value that the commissioning process can add to a construction project is likely the greatest during the design phase before a building or building system is actually built. Without exception, the easiest and least expensive modifications that can be made to a building system are ones that are made on paper before materials and equipment are purchased. 
Knowledge and Experience
By applying the commissioning process as early in a construction project as possible, we can take advantage of the experience and point of view of the commissioning team and leverage them to benefit the entire construction team and the building owner.  A thorough design review by the commissioning team can provide the design team with valuable feedback and guidance with the primary focus being the ultimate functionality, maintainability and performance of the soon-to-be-installed building systems.  The purpose of the commissioning design review is not to re-design the project.
Time and Materials
The design review is often a catalyst that opens the door to clarify design intent to the construction team and helps keep the project on schedule by analyzing design components before the construction schedule gets started.  Additionally, the design team is given adequate time to review any recommendations, how they may impact the overall project scope and how this meshes with the owner's original project requirements.  Modifications to materials or equipment made during the design stage will be relatively small and incremental and can save the owner money in the long run.  Making a modification in the type or model of a piece of equipment or the material or rearranging a system after purchases and work have been done is extremely costly to a project in terms of time and money.
In short, conducting a commissioning process during the design phase of any construction project will pay for itself tenfold through the avoidance of untimely modifications and will result in a high quality product for the owner.  In our last blog, we discussed how commissioning can add value by providing a substantially high benefit for a relatively low cost (Value = Benefits/Cost); the demonstration of this is no more evident at any point in a construction project than during the design phase.
Have a question for our experts?  Leave your comment below or click here to learn more about our full range of services.