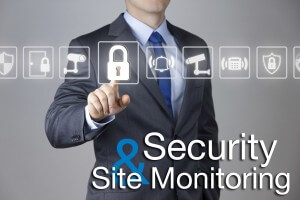 Security for employees and organizational assets is a major concern when today's business leaders are considering locations for their companies. Access control, or the means by which people are granted or denied access to various areas inside a facility, is one of the vital components of an effective security program and comes in many different types and levels of complexity.
Office buildings can either be comprised of individual commercial tenants or be owned and occupied by a single company. Varying degrees of access control delineation may be required depending on facility use and type. Administration of a facility's access control processes or systems may be handled internally by building management or outsourced to a trusted system integrator via a managed services agreement.
Types of Systems
While access control may be as simple as mechanical locks with coded or keying systems, this method is largely manual and is often too difficult to deploy in a multi-user, multi-door application. Most users require an access control system capable of centralized input for credential assignment, revocation, audit capability, emergency lock down and other oversight abilities that do not exist within a mechanical solution.
Flexible access control systems may require software and work stations or, more recently, be web-based, and many use readers or key fobs as individual access credentials. Card access control is quite common today, and there are a variety of systems with different levels of sophistication, including those with total building automation integration capabilities.
There are many advantages to card access control. Employees or subcontractors can be coded with access to specific areas depending on their need, company affiliation or any number of factors. Systems can be set so that individual privileges can expire on a given date if tighter security is required in areas such as labs or IT rooms. Management can install keypads, keypad and card combinations, or biometric devices that can scan fingerprints or handprints. Credentials can be made with the assigned user's name and photo for validation by premises guard service.
Choosing a Type
With different needs for owner-occupied and tenant-occupied buildings, how does management begin to evaluate the various types of access control systems that are available?
Care should be taken to choose base building systems that allow for growth, ideally require no annual software license renewals and that are engineered as non-proprietary. Web access is important for full remote functionality. Additionally, most modern access control systems accommodate various credential formats. This feature is particularly important in multi-tenant applications when tenants require their own organization's issued credentials to provide access to both their own space and the base building.  Finally, a well-designed plan incorporates regular maintenance and database review to ensure accuracy and to purge credentials that may have been lost or revoked due to termination.
Whether deployed as a standalone solution or as part of a total integrated security solution, a properly executed access control system can help minimize your facility's security risks.
Have a question for our experts? Leave your comment below, learn more about our Security services or contact them directly at security@mckenneys.com.