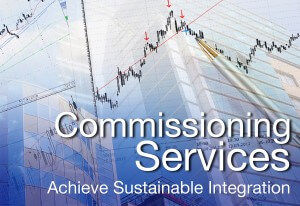 Have you wondered why commissioning has become a standard best practice in both new construction and existing building construction projects? The answer can be most simply stated as VALUE. If you consider that Value = Benefits/Costs and the benefits of an effective commissioning typically far outweigh the costs of these services then it follows that there is tremendous VALUE realized through the commissioning process.
Commissioning is a process focused on producing a quality space or facility that is tuned and performing at its very best when a construction project is transitioned over to the building operations team. In order for the commissioning process to be most effective the commissioning team should be involved as early on in the project as is possible, well ahead of actual project construction. The easiest fixes for many of the difficult operational challenges that facilities face can often be made inexpensively if caught during the design phase of a project. We know this to be true – a system cannot be built correctly unless it is designed correctly.
The commissioning process facilitates a collaborative, team approach to any project. When contractors and building maintenance staff are involved alongside traditional design teams during project design, they are able to provide expertise with constructability, maintenance, and pricing decisions. The entire team's involvement shifts some of their costs out of the high-cost construction phase of the project to the low-cost design phase. The resulting benefits and cost savings to the project are significant which drives VALUE to the project up.
An effective commissioning process can get your project started on the path to success. Involvement of the commissioning team during design is a great first step. Stay tuned to future blog entries by our commissioning team to learn how VALUE is driven higher during each phase of a project, from design through a complete transition to operational stability.
Have a question for our experts? Leave your comment below or click here to learn more about our full range of services.